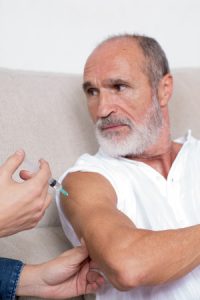 As detailed in prior entries, shoulder injuries can occur as a result of receiving a flu shot, Tdap, or other vaccination.  Typically, these injuries are caused from improper needle placement by the person or provider administering the shot.  However, in rare instances, the use of an improper gauge or length needle can also cause injury due to over penetration. The flu shot and other vaccines are designed to be injected just into the surface of the muscle.  Any shot given too deep into the muscle tissue or surrounding anatomy can cause injury.
The decision by providers regarding which size needle to use for a shot is based upon the following factors: age of the recipient; body mass of the recipient; the anatomic site of administration; and whether it is supposed to be administered intramuscularly or subcutaneously.
Below is the recommended need gauge and length for adults:
Below is the recommended needle gauge and length for newborns, infants, toddlers, children and adolescents: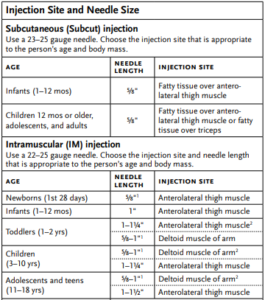 If you believe an improper size needle caused an injury to you or a loved one when receiving a flu shot, Tdap vaccine, or other vaccination, you should contact our firm as soon as possible. Our firm is experienced in litigating vaccine injury claims on behalf of those suffering shoulder injuries and we would be happy to answer any questions that you may have as well as to discuss a potential claim for compensation.