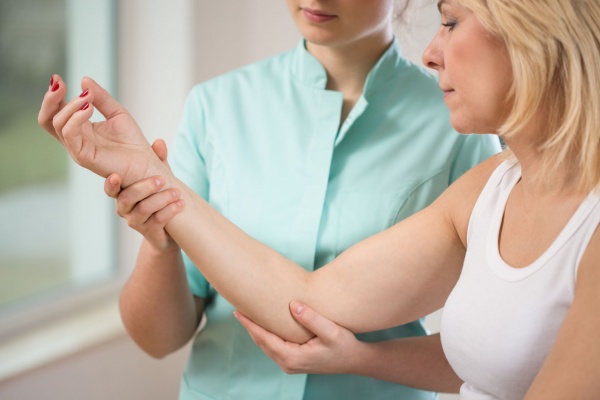 Complex Regional Pain Syndrome (CRPS), previously and alternatively known as Reflex Sympathetic Dystrophy (RSD), is an extremely painful and debilitating syndrome that often causes irreversible long term effects on those suffering from it. Procedures involving injections from vaccines are known to be precipitating causes for the development of the syndrome and have served as the basis for providing relief under the National Vaccine Injury Compensation Program. CRPS is a condition that is characterized and diagnosed clinically and although there is no diagnostic criterion, accepted criteria include sensory, autonomic, and motor disturbances. Pain in CRPS varies in quality from a deep ache to a sharp stinging or burning sensation and patients frequently experience pain from innocuous tactile stimuli (allodynia) such as light touch, temperature and vibration or other movements, have an increased response to painful stimuli (hyperalgesia), and exhibit vasomotor changes. Motor disturbances in the affected limb may present as tremors, weakness, muscular incoordination, decreased range of movement, muscles spasms, and dystonia. Below is a list of some of the symptoms that those suffering from CRPS may be experiencing in the effected extremity:
Pain and tenderness
Burning sensation
Tremors or shaking
Weakness
Sensitivity to light touch, temperature and vibration
Decreased strength and/or weakness
Decreased range of motion
Sensory deficits
Skin discoloration
Temperature differences between affected limbs and other limbs
Unfortunately, studies done on those suffering from CRPS have shown that only a small number of individuals suffering from the syndrome are ever able to return to gainful employment and fully resume their prior activities. Petitioners suffering from CRPS typically require extensive treatment with pain management and other doctors, physical therapists, occupational therapists, psychologists and other types of health care providers and often require various support services as the syndrome progresses. Our firm works with different medical providers, life care planners, economists, psychologists, and other professionals to make sure all of your current and future medical needs and economic damages are accounted for and addressed in your claim.
If you or a loved one started experiencing CRPS like symptoms after receiving a vaccine, please contact our Vaccine Injury Attorneys. This is not a typical personal injury case. You need to contact a lawyer who is admitted to practice before the United States Courts of Federal Claims and has experience litigating vaccine injury cases. Our firm is experienced in litigating vaccine injury claims on behalf of those suffering from CRPS and has achieved some of the highest recoveries ever for these types of injuries in the National Vaccine Injury Compensation Program.